What are built-in seat belts?
When buying custom fit seat covers, some seat options will mention built-in seat belts or integrated seat belts. Built-in seat belts are driver and passenger seat belts where the shoulder belt connects back onto the top of the seat, rather than the side of the vehicle frame. The seat belts are integrated, or built into, the seat. A lovely and more technical term for them is Seat Integrated Restraint System (SIRS), but we just like to call them built-in seat belts.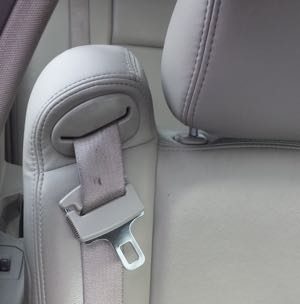 Built-in seat belts were popular in trucks and SUVs and convertibles, particularly in the 1990s and early 2000s, but are less common now. While more comfortable and convenient, integrated seat belts are more expensive to make because of the stress they place on the seats and the seat-to-floor mounting.
If your vehicle has built-in seat belts, you will need seat covers that accommodate them, or those seat belts are going to be stuck under the seat cover. Our seat covers are custom fit for a specific vehicle's seats, including the integrated seat belts if they have them. If you have any questions about built-in seat belts or any how our custom seat covers fit, please let us know.